Klaviyo is the world's leading email marketing platform for eCommerce. It specializes in creating highly personalized 1-to-1 email campaigns that drive more revenue for your store. Customers can be targeted using Klaviyo based on specific behavior and preferences, so Klaviyo Data studio integration will surely be useful. How do you Connect Klaviyo to Google Data Studio to create an insightful and highly organized dashboard without coding? Read this guide!
Klaviyo provides a wide range of highly customized data that lets organizations run data-driven email and Facebook campaigns. Still, it takes a lot of time to understand its data as it isn't organized or allows an easy way to look into it from different perspectives.
The main goal here is to integrate Klaviyo with Google Data Studio and create a real-time dashboard that displays data in a highly organized and actionable format.
But the problem is integrating google data studio, and Klaviyo takes up too much time on our end as we need to manually code and keep the data up to date. So the solution to that would be using a third-party API connector which takes away the coding aspect of the work and makes it so much smoother.
In this article, we'll see how you can integrate Klaviyo with Data Studio without coding and create a dashboard that provides insights into your email campaigns. You can have a look at our highly organized customizable Klaviyo dashboard templates as well.
But before that, why do you need google data studio?
About Google Data Studio:
Google Data Studio is a free, hosted data visualization tool that allows users to quickly build reports and dashboards without any code. It is a great way to keep track of your marketing metrics as well as metrics from other sources.
How can you use Google Data Studio?
With Google Data Studio, you have the option of adding one or more data sources to your report. Google Data Studio lets you connect with a number of data sources, including Google Analytics, AdWords, Apps Script, BigQuery, Facebook Ads and Marketing API, Mixpanel, Sheets, etc.
The best part of all, there are no restrictions on the number or type of reports you can create in Data Studio. And here is the best part: it's completely free.
Why the need for Klaviyo integration with Google Data Studio?
Every online business owner wants to track the effectiveness of their marketing campaigns. Whether it's increased website traffic or increased purchases from email campaigns, tracking metrics can help answer questions about ROI and how successful your campaigns are.
By integrating Data studio and Klaviyo, you will have a better idea about your email campaigns, and it will help you to create better marketing strategies.
In the Kalviyo Data studio dashboard, you will have the option of viewing the following metrics:
Revenue from Email Campaigns, Purchase Amount, Email Click Rate, Open Rate, Email Bounce Rate, and Unsubscribe Rate.
All of this data will be displayed in the form of graphs and charts with filters that will allow you to see data based on different parameters like products bought, time, or users who opened their email.
How to connect Klaviyo to Google Data Studio without coding
Below we will see how to integrate Klaviyo with Google Data Studio and create an amazing dashboard. This can be done via third-party API connectors without any coding skills.
Prerequisites for Klaviyo data studio integration:
– A Klaviyo account and running knowledge of Klaviyo.
– An active Google Data Studio account, you can create an account for free.
– Third-Party API connector.
Step 1:
For Klaviyo data studio integration, you need to log in to Google data studio.
You can directly go to the Google data studio website and log in using your Google account credentials.
Step 2:
After signing in, click 'Create' in the Reports and choose 'Report'.

Now, you need to select 'Connect to data,' which connects any new data sources.

Step 3:
This is where the third-party connector comes in; we need to choose a suitable connector that can connect to your Klaviyo account and connect it to google data studio.
A connector is software that acts as a translator to connect your data source with Google Data Studio. It converts the data from one format to another to be displayed in the reports created in the Google Data Studio Klaviyo account.
A few of the connectors we can use are:
Stitch
Windsor
Supermetrics
Our connector
You can get our connector free of cost when you take up our Klaviyo data studio integration services. With us, you don't need to buy an external connector as we select the data relevant for your business and create specific metrics that will help run your dashboard optimally.
Step 4:
Once you've chosen your connector, you'll need to configure and authorize it. Simply click on the 'Authorize' button on your screen.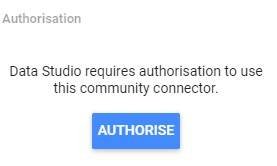 Next, you need to choose the google account associated with your Google data studio to integrate it to Klaviyo and click on 'Allow.'
With your google account now linked, you need to authorize Google data studio to use the third-party connector for Klaviyo integration. Click on 'Authorize.'
Now you'll have to choose Klaviyo in 'Add Data' and paste the API key for your Klaviyo account, which you create in your Klaviyo account settings.
Step 5:
After successful authorization, you'll have to select the data you want to be imported. Once it's done, click on 'Done.'
And now, with all this process, your Klaviyo account is successfully integrated with Google Data studio.
Now click on Dashboard> Connected Sources> Klaviyo, and you will get all the Klaviyo metrics imported into your data studio Klaviyo dashboard.
Now you can create a good-looking and detailed report with ease, add filters, and play around with the data to find out different insights, which will help you improve your marketing strategies further.
Conclusion:
The above is a small guide on integrating Google Data Studio and Klaviyo. With these steps, you can easily integrate your Klaviyo account with Google data studio and create a good-looking report with charts and graphs. Here're advanced google data studio reporting tips to shift your reports to the next level.
Here, we have seen the steps for connecting Klaviyo with Google data studio without coding. There are many other platforms where you can integrate Klaviyo and Google Data Studio. It is advisable for a beginner to use a connector to integrate the two platforms as it will save up a great deal of time and energy without burning your pockets.
If you have any queries feel free to leave a comment below. And also, remember to share this guide with others who might be in need of it.